by Marshall Goldsmith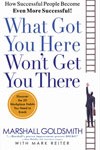 How do successful people become even more successful?
Leadership expert Goldsmith has taken a very interesting proposition for this book.  No matter how successful you are, no matter what you have achieved  – the question arises what do you need to do to become even more successful?  (however you define success)
Goldsmith outlines how the very traits that you needed to become successful might lead to a downfall.  Your behavioral quirks and weaknesses – your own funny little ways take on more weight and significance and can do more harm than they could when you are on the way up.
Goldsmith identifies the 20 most common shortcomings and provides a 7-step procedure for improving without a complete personal make-over.  Sometimes making a small adjustment or simply stopping counter-productive behavior is all that it takes.
This book is well presented and a very easy read.  Many of us have no clue how our behavior affects our bosses, co-workers, employees, clients or family.  Perhaps my major take away  from this book is not so much an emphasis on doing new things but the potentially massive impact of stopping the bad habits, funny ways or attitudes. I will not list the 20 specific bad habits but they all make sense to me.
However I will share with you Goldsmith's 7-step method for changing for the better.
He recommends that to correct any of the 20 bad habits the steps are:
feedback,
apologizing,
telling the world,
listening,
thinking,
following up and
practicing feed forward.
The idea of feed forward is to give someone else suggestions for the future and help as much as you can for them to achieve.  Here is a link to Goldsmith's article called Try FeedForward instead of FeedBack.
Goldsmith suggests that "360 degree feed back" is a great opportunity for the commencement of the discussion about an identification of your own weaknesses or issues.
My favorite story from the book was how Goldsmith coached a high-earning investment banker who did not have the self awareness to understand that everyone around thought that he was a bully and a pig. Goldsmith asked him this simple question "do you want people to come to your funeral because they love and respected you, or because they want to make sure that you are dead?".
This is a very good practical book which is easy to read.  Highly recommended.