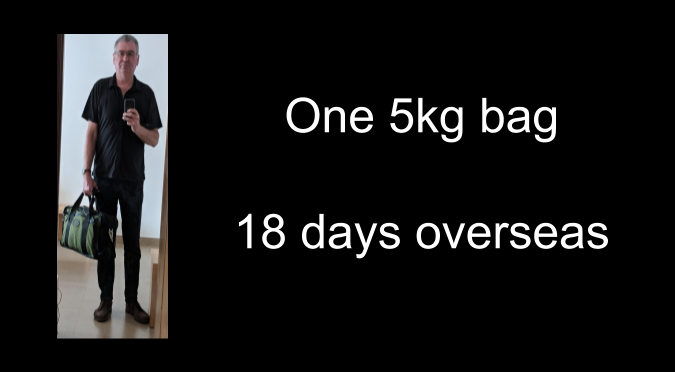 I haven't "checked a bag" for over 10 years. It's been hand luggage only – domestically and internationally.
In one sense this is a pretty basic thing but as I'll explain it's actually been one of the most significant things I've ever done in my life and it's triggered unexpected layers of self-awareness and new insights.
Last month I returned from 18 days in India and my carry-on luggage weighed only 5 kgs a Personal Best.
Philosophy
I've always been attracted to the idea of travelling light.
I associated it with a certain type of sophistication…..someone who really knew how to travel…an experienced traveller.
If I could draw an analogy – I'm more impressed by an SAS soldier than the army. Maximum skill, expertise and initiative versus bulk and muscle.
So, fair to say I gravitated towards and was inspired by people and stories that fitted this imagery.
Such as Paul Theroux.
Theroux's The Great Railway Bazaar: By Train Through Asia recounts Theroux's four-month journey by train in 1973 from London through Europe, the Middle East, the Indian subcontinent and Southeast Asia, and his return via the Trans-Siberian Railway.
Theroux travelled with "a small suitcase".
I wanted the sort of travel experiences that Theroux had described.
I was interested in "travel" not "holiday".
My curiosity is endless and I wanted to observe how other countries and systems work. I seek authenticity not "luxury".
In my mind – sitting on a luxury boat cruising along a River, observing the scenery is  a holiday not travel. And that's fine – it's just not for me.
I want authenticity. I want to see, smell, touch, taste it  – and I don't mind "the grit" that comes with it. If I'm surrounded by thousands of local people with no other tourists in sight, I know I'm in the right spot.
I don't like tours or strict itineraries – that stifles me. I prefer to have a rough plan and make it up as I go. If I want to stay longer at a destination I do. If a place doesn't feel right for me (for whatever reason) I'm happy to move along.
And , surprisingly, some of my richest travel experiences have come from problems or mistakes. The flight to Stockholm cancelled by bird strike. The train that was too full for me to board in India. The unexpected middle of the night border crossing delay in Turkey. The Malaysian sleeper train that no longer existed. I could go on and on.
Like Theroux, I prefer to travel alone – it's the ultimate indulgence. Travelling alone doesn't mean being alone – in my experience you're much more likely to engage with locals or other travellers if you're flying solo.
My preferred means of travel are train or ferry….and I'll often stay in interesting (obscure) AirBnB accommodation – if I'm not on a ferry or sleeper train.
I knew that travelling light was for me…
Practice
There's a bunch of practical reasons to travel ultralight…
Speed
It's faster to pack and repack.
I hate to queue. If I can't do an electronic check in – I'll often present myself to a service counter or (cheekily) to the business class counter. I'm easy to deal with and I've not once been "told off". Everyone's happy.
If I don't have to wait to collect my luggage to unload, I can beat you to Customs and from there the advantages multiply – the early bird gets the earlier train, the last available taxi and beats the rush hour traffic etc.
I often "daisy-chain" discount air tickets – and that might mean that I have to exit transit (through border and customs control) to check-in for my next flight….which I can usually do pretty quickly.
Reliability & safety
Having your luggage lost (or not following you on a tight connection) is a major pain in the butt – particularly if you're on the move. Back in the day this happened to me several times.
Having someone unknown tamper with your "checked luggage" – boogie boards / headphones etc…could change your life (or end it).
I'm never stressed about anything being stolen – my bag can easily fit alongside me  – even on the smallest sleeper train. I can always take my bag with me – toilets, tiny European lifts, crammed buses – whatever, never been a problem.
Comfort
I remember on one of my earlier trips to the the UK (at one point I had 3 trips to London in about 45 days) being exhausted and literally having to sit down for a rest after pulling my mega suitcase (27kgs) from the tube station to my hotel. Those little wheels don't work so well on cobblestones !
It gives me great peace of mind knowing that I can effortlessly traverse and transition to and from planes, trains, buses, cabs, tuk tuks, large boats, small boats, stairs, lifts, sand, cobblestones etc. Nothing is a problem.
Cost
I can easily access Public Transport and never have to pay extra to "check a bag".
My practical advice
Your international carry-on limit (to be safe on any flight) is
Weight : 7 kg
Size : 48cm x 34cm x 23cm = 37.5 litres
Your bag
The carry-on limit implies a soft case without wheels.
You've only got 7kgs and wheels (because they demand an internal frame) will consume 3 kgs minimum – so you're already in trouble with weight.
For a good discussion on this topic in all of it's gory detail I'll refer you to www.onebag.com
The author – Doug Dymont contributed to the development of The Airboss bag – my former favourite – made by my go to bag guys – www.redoxx.com
My latest bag is the MiniBoss, the little brother of the AirBoss.
Dimensions: 48.3cm x 16.5cm W x 30.5cm H
Capacity: 24.3 Liters
Weight: 1.54 Kilos
This is my perfect bag. Despite it's light weight it is rock solid and comes with a lifetime unconditional warranty. I'm confident that I will not need to buy another bag in my lifetime.
What about a lightweight pack you ask ?
Well – I've got a Crumpler Low Level Aviator backpack. It's a nice 30 litre bag – they describe it as a 3 day pack – and I've used it for over 14 days on an international trip.
The reason I prefer the MiniBoss over the backpack is that it gives me more comfortable carrying options. I can carry it in either hand or I can sling it over either shoulder – and I can change position easily whilst on the move, making it easier to get in and out of various forms of transport.
And it makes me look less like a backpacker which I prefer.
Your clothes
One of my favourite quotes, attributed to Churchill in wartime – "I apologise for writing a long letter, I didn't have time to write a short letter".
"Less" needs a bit of thought but there are a few key elements.
Uniform. You need a travel uniform, based on your likely weather. You're not going to win any fashion awards when you're travelling ultralight. Get over it.
If that's important to you – book a cruise, take all of your ego and your entire wardrobe and aim to dine at the captain's table everynight. Good luck. Send me your selfies.
Layers. Layer it up.
Wash. You'll need to do a simple, quick wash every few days. In the bath, shower, basin – whatever.
Fabric. What you want is something that keeps you cool AND keeps you warm.
It's quick drying – for when you do that occasional wash.
My go to fabric is ultrafine merino wool.
I use and swear-by Icebreaker. At the heart of my travel uniform is IceBreaker socks, jocks and T-shirts.
Other than that it's lightweight, quick drying specialist travel fabrics.
Avoid denim jeans – they're simply too heavy for travel and they're slow drying.
Your Shoes
Shoes are heavy.
So – you can only have 2 pairs of shoes – I suggest one heavy and one light.
My heavy shoes weigh 870 grams and of course I wear them on flights / long travel days.
My light shoes weigh 715 grams (if I'm in good weather) are something like climbing sandals. They can still cope with climbing a hill or traversing a city or beach.
Either way – 2 pairs of shoes is it. In fact if I was going on a few city Asian holiday – it could just be one pair of sandals or slip-ons plus thongs.
If you must have more than 2 pairs of shoes – you are again heading for the Captain's Table on that cruise.
My heavy shoes
I wanted something that was practical for travelling but didn't look too much like a travel or hiking shoe.
I settled on…
Merrell – an earlier version of the Moab Adventure Lace.
I've had them for about 7 years and haven't seen anything better so I recently spent $90 to get them resoled and they're probably better than new with a more robust sole.
My light shoes
My current sandals are an earlier version of the Keen Sandals.
Easy to slip on / off and they can cope with pretty much any terrain.
Mine weigh 715 grams and I'm sure that I can reduce that by maybe 300 grams with my next pair.
People often stress about say "running shoes" .
Here's an idea – find a grassed area and run in bare feet. I've done this a few times. It's fun, liberating and a reminder that you don't need $200 shoes to run !
Cooler Climates
A harsh judge might note that my recent 5kg trip was aided by the mild Indian winter climate. True. I can still be comfortably under 7kg with "layering" and one well chosen jacket – that I'd wear on the plane.  The jacket would be functional (warmth and water) whilst still being presentable at a decent restaurant.
Other stuff
Toiletries bag
I carry my toiletries in a small ultrasil (ultra lightweight) bag.
Instead of heavy stuff – my deodorant is a light powder container and I also use powder (an Indian brand) for teeth brushing.
I wash my hair daily but only shampoo a few times a week so I usually just scrounge some from a hotel along the way.
I carry a little pack of soap leaves like this.
Tip: If you can't scrounge tiny containers from a hotel somewhere – try a 7 Eleven or like, particularly in Asia – they typically sell "small" (and light) versions of everything.
First aid etc
Everything else which I don't necessarily access daily goes here. Medicine, sunscreen, insect repellent etc.
Chargers etc
On a previous trip into Asia I bought a charger that has native Asian plug – so that eliminates the need for an adapter plug…
Phone
My Google Pixel has a great camera, great battery and a fast charge capability. So no need for a separate camera. I've previously taken a dual sim phone and used either a Global sim or a local sim in my second port. I usually leave my Australian sim in place so that I can receive text messages (at no charge). I'd then used Skype to respond to those text messages at low cost.
This time I just paid the Telstra $10 daily roaming charge for 200 Meg of data per day.
That worked fine and was a reasonable price IMHO.
My only slight downside this trip was a that I didn't have a local phone number which was a barrier to OTS (one time sign-on) for a few local services that I would have liked to have used and a few Uber drivers tried to ring me and abandoned the pickup when they couldn't.
If my Pixel had a dual sim and a slightly longer battery life it could well be my perfect travel phone.
Laptop / keyboard etc
My laptop & cable weighs 1,350 grams.
My just completed trip to India was the first trip for many years when I didn't take my laptop.
As a backup I tried an ultralight Bluetooth keyboard. I didn't need to use it much – but when I did I was super impressed, much better than I thought.
So – I don't plan to take a laptop ever again. All of my business systems are in the cloud – so if I do need a full size computer I'll just find an internet cafe or find a business centre or lounge somewhere. Worst case I select a hotel for that has business facilities for a night or two.
Books / Magazines / Paper
Books are heavy, magazines even heavier….
I like the Lonely Planet pocket city guides..but if you're going to more than to 2 cities they will add up.
So – the solution is electronic.
Having not being able to find the Lonely Planet guides on Amazon I finally found them on the Google Play store ( I presume they're on Apple too). They worked pretty well (although navigation could be improved).
I also use the Trip Advisor app and typically through a combination of these two I'd find what I wanted to see on Google maps and bookmark them. That gave me a heatmap of what I wanted to see.
I used Google Trips a bit  – but I'm planning to use the planning function more next time.
I love my old Amazon Kindle and even though I used my phone more this trip for reading – the Kindle was still useful because I've got pretty much my entire library on it and a few times when my phone ran out of juice it gave me several hours of reading that I wouldn't otherwise have had – so worth the 170 gram investment !
Occasionally I might find a book that I must have – I just take a photo of it in Evernote and order it when I get home. If it's a paperback I might buy it, read it and gift it along the way to a fellow traveller or just leave it in an airport for someone else.
Shopping
Seems to me retail is becoming ever more global…so more and more – it all looks the same to me.
I don't spend much time in shops – it's just not the best use of my time. I will sometimes visit unusual shops but I will rarely buy anything.
My kids understand my philosophy – so they don't expect souvenirs anymore.
(and in any case aren't 99.99% of souvenirs totally crap ???)
On my last trip to India I had a fitting at the Bombay Shirt Company and I ordered 6 tailor made shirts that were shipped to me. That was fun and didn't give me anything to carry.
Exception – I may buy something on the small side if I see something interesting on my last stop and I've got a fairly simple journey home.
My $100 fix philosophy
I'm not rich but I'm not poor either.
I figure that I can solve most problems by throwing a $100 at it. (usually much less).
So – if my target hotel cost is $50 or $80 and there's no rooms available – I just spend more. It's never failed yet.
If I find myself urgently in need of clothing – I just buy something simple. Whatever the locals wear in the same circumstance.
On my latest trip to India I had to catch a "sleeper bus". I figured (correctly) that I'd not get any sleeping stuff – so I spent $5 on a blanket that I kept for another week. I passed it onto a grateful recipient on the streets of Mumbai. I'll no doubt use the blanket fix again.
And if I ever unexpectedly got invited to dine with the Queen – I just rent a Tux..
(I've never actually met the Queen but friends of mine have. They said she was just like your favourite Granny. I did once have dinner with a bloke who claimed she was his cousin. He reported that at a private dinner she turned her fork upside down to eat her peas. With these insights I'm not intimidated by her dinner invitation anyway.)
Learnings
Travelling light might take a bit of research and a bit of practice to figure out what works for you but ultimately it's a simple thing.
Once you've got your head around it (like most things) you'll wonder why it seemed so hard.
However I must say it's been one of the most profound things I've ever done.
Why ?
It triggered my personal journey to get rid of my "stuff".
Many of my most profound life experiences have been simple things whilst travelling.
A bike tour in Berlin. An afternoon walking randomly through the backstreets of Istanbul.
A train ride through Croatia. The things you see, the people you meet, the conversations you have.
I feel "light" with only hand luggage.
It became increasingly clear to me that I'd over complicated my life with "weight" that was not adding anything positive.
Ultralight travel was guiding me to a "light" life even when I wasn't travelling.
In the Western World it's all gone wrong in the last 50 years or so. We've built bigger houses with fewer people but filled them with more stuff. In many cases we can't even fit this stuff into our big houses and we hire self-storage units to store it ! Totally bizarre.
I love this quote :
"We buy stuff we don't need, with money that we haven't got to impress people we haven't met".     Sad but at least a little bit true.
I commend ultralight travel to you.
It will certainly improve your travel experience and who knows, it might even change your life.
Inspiration
https://www.onebag.com/mail.html
The Great Railway Bazaar : By Train through Asia by Paul Theroux
Vagabonding: An Uncommon Guide to the Art of Long-Term World Travel by Rolf Potts
The Places In Between by Rory Stewart
The 100 Thing Challenge: How I Got Rid of Almost Everything, Remade My Life, and Regained My Soul by Dave Bruno
Resources
Www.onebag.com the practical detail
MiniBoss my tiny little bag.
My packlist – India 27 December 17 to 15 January 2018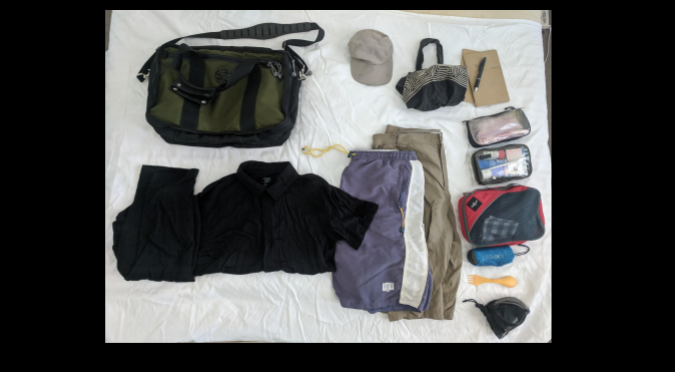 | | | |
| --- | --- | --- |
| Item | Weight (grams) | |
| 2 t shirts | 350 | Icebreaker |
| 2 shorts | 440 | |
| 2x jocks, socks, hankies (+packcell) | 360 | Icebreaker |
| sandals | 715 | |
| charger, cables, earphones | 160 | |
| Neck pillow, eye mask & earplugs | 110 | |
| Toiletries | 200 | Carried in an ultrasil bag |
| First aid, medicine, Sun screen, insect repellent | 325 | |
| Bag | 160 | A simple shoulder bag I bought somewhere in Asia for $5. Good whether small load or large load. What I usually carry during day for food, water bottle, journal, newspapers etc |
| Hat | 65 | |
| Kindle | 170 | Old but good. Lasts 4 weeks on one charge. |
| Keyboard & stand | 200 | |
| Spork | 10 | Good for when you choose not to eat with your hands or you buy food at a supermarket. |
| Sunglasses & pouch | 90 | |
| Journals & pen | 210 | Two light |
| Bag Contents | 3,565 | |
| Mini Boss Bag | 1,540 | |
| Total Carry on Luggage | 5,105 | |
| Clothes worn | | |
| Pants | 650 | J Brand Jeans |
| Shirt | 260 | Travel shirt |
| Belt | 135 | Simple black leather |
| Jocks, socks, hankie | 140 | Icebreaker |
| Shoes | 870 | Merrell |
| Phone | 140 | Pixel 1 |
| | 2,195 | |